About the Comic
Failure To Fire is the internet's first comic about gun culture in America. It contains adult romantic comedy, occasional coarse language, off-color humor at times, and various plot twists. On top of that, there will be strips every so often that are more than a little instructional, for those who are not familiar with firearms. This comic is primarily meant for shooters, but we will try to keep all information presented accessible to the public at large. There will be little to no talk of politics in the strips, as the creators are political moderates who believe that the 2nd Amendment should not be a partisan issue. Also, partisan political jokes just aren't funny. And that's where we're going with this: funny. No preaching, no antagonism towards those we disagree with – just entertainment.
About the Creators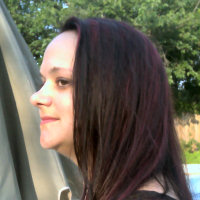 Mel Hynes is best known as the writer for Two Lumps. She is an accomplished martial artist, brews her own beer, rides motorcycles, and loves cats. She met James as a fan of his comics in 2002, and they have been together since. She resides in Dallas with James, her co-creator and husband, see below, and can often be found shooting, camping, or playing video games. Her favorite weapons are her Bushmaster Carbon 15 Carbine, which she is ridiculously accurate with, and her Browning MK I Hi-Power 9mm.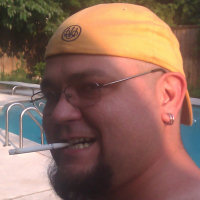 James L. Grant first began scribbling comics while in kindergarten. When in his late teens, he was able to sell a few strips to goodly-read zines and small publications, but it never really amounted to much. In 1998, he put one of his comics on a free website, calling it FLEM comics, and thus began a strange journey that he continues to this day. Along the way, he has learned to play music, enjoy the outdoors, enjoy the internet, and drink many a fine beer. He currently resides in Dallas, TX, with his co-creator and wife, see above, and Trinity, his daughter. His favorite firearm is the Ruger 10/22, closely followed by the Taurus Model 669 .357 Magnum.
More information on James can be found at his website.